BUTLER – an Italian restaurant on Patriarch ponds from the GINZA PROJECT holding. The same mansion in the legendary place of Moscow, with irreproachable Sicilian cuisine, famous hospitality and the highest level of service. Here you will find the greenest terrace of Moscow in summer and an almost fairytale forest in the center of the metropolis in winter.
BUTLER is a place for the connoisseurs of beauty. And beauty is a balance of the world's best cuisine, carefully read by maestro Giuseppe Davi, a setting where there is no place for trifles, and an atmosphere that we carefully think through.
With love and care we select for you not only the menu dishes. Our jazz evenings with the participation of the world-class guest stars are especially popular among the most demanding connoisseurs of this musical direction.
Especially for intimate dinners in a narrow circle, the restaurant provides separate rooms with VIP service, equipped like luxury rooms in the hotel. Whatever you choose — a family brunch, a children's party, a date, a business lunch or a festive event with a lot of friends — you will have a great time with us.
BUTLER — we are always glad to meet you in the same mansion on the Patriarch ponds!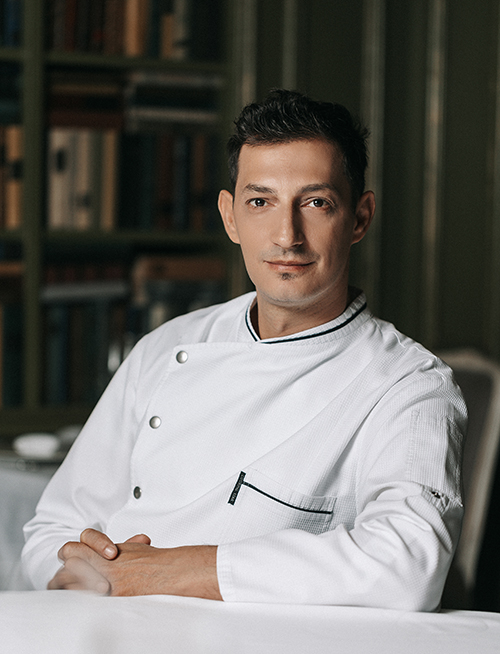 JUSEPPE DAVI
Chef
Giuseppe was born in northern Italy, but had spent every summer with his grandmother in Sicily. It was there where Davi's interest not only in Sicilian cuisine, but also in Italian gastronomy in general, arose. The future chef began working in the kitchens of restaurants at the age of 16, his last job in Italy was a restaurant on Lake Garda.
Giuseppe's achievement list includes work in Michelin restaurants with famous chefs: Claudio Ruta (La Fenice restaurant, 1 Michelin star), Pino Cuttaia (La Madia restaurant, 2 Michelin stars). In Moscow Davi headed the kitchen of the legendary Semifreddo for seven years — during his work the restaurant was included in the lists of the best restaurants of the world according to San Pellegrino and Le Soste guide.